Mama M
is hosting a whole Valentine's Day Week Extravaganza! I think it's a really cute idea, so I thought I would join in. She even made a sweet little button to celebrate!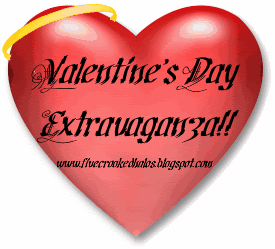 She is posting different questions about your love (or your BFF if you haven't found "the one" yet!) for you to blog about. Not a bad idea to celebrate the person whom we care about the most! It starts today and I believe it goes through Sunday, you know the big V-Day! I am assuming she'll link it up so we can see what everybody else has to say about their hunnies!
So, my friends, read on about the rollercoaster that is my love life with Jason! (Not really... no coaster, maybe more like teacups of love? I don't know... anyway...)
Today she is asking:
How did you meet the love of your life?
I have actually posted a small blurb on this before... Here is what I wrote:
"The night that Jason and I met in a bar we talked for a moment and he told me to "stay where I was, he'd be right back". Well, he never came back. I actually had the thought that I should go find him because I never knew "he could be the one". I voiced this to my sister Natalie, who was with me that evening. Mind you, I had just gotten out of a difficult relationship and had gone out that night with no intentions of meeting anybody, let along finding "the ONE". So, I found him later on in the bar, we talked the rest of the night and neither of us ever looked back. I guess my intuition was right. When you know, you know."
I guess I could expand a little bit. I was at the bar for my girlfriend's bachelorette party, he was just hanging out with friends. I was definitely feeling a little good thanks to my good friend Vodka. I've always been a forward kinda gal, so it was no surprise that when he walked by I reached out and grabbed his arm. We talked for a little bit... then he left. When he didn't come back I did, in fact, go and find him. I put my number in his cell phone and he called me the next day. We started spending every day together, completely smitten with each other! Awww.... so sweet! :)
Things moved pretty fast: moved in together, bought a house, adopted a few of our furry children, relocated to Texas, bought another house... and here we are five years later, about to have our first child together. I could not be happier with where my life has taken me. He is a wonderful, intelligent, caring, supportive man and I definitely have the "I do not deserve you" feeling every once and awhile with him. I think that's something a lot of women feel when they really have a fantastic guy that they're attached to!
Granted, just like every relationship we have our ups and downs. But there really, truly aren't very many downs. When we fight it is pretty much me being a brat. I always feel terrible afterwards. Never once has he really yelled at me, or even told me to shut up. He's always so calm and level-headed (must be the engineer in him!) and I am the one who will usually fly off the handle. It's been a wonderful learning experience and has really helped me to become a calmer, more patient individual.
So, there you have it. That's how I met the love of my life.
Don't let anybody tell you that you can't find happiness in a bar! Ha ha!
~Emily