I thought I'd take a break from my spring cleaning and participate in The Undomestic Momma's Top 2 Tuesday while my Little Man is still asleep!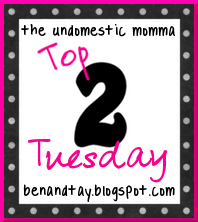 Today's Question:
What are two things that you can't live without?
Other than the obvious things...
Jason
Aidan
Family
Friends
Food
Water
Air
Etc...
I'd have to say....
1. Simply Apple Juice. I became addicted to this when I was pregnant. I had to give up my daily Diet Coke *gasp* and replaced it with apple juice. I drink it everyday now! It's SOOO good and caffeine free AND tastes like cider! Yummm!
2. Reef flip flops! I LOVE THEM! They are so comfortable and perfect for this Texas weather! I even have a pair that comes with a bottle opener on the bottom, in case I'm in a pinch and can't open a Corona. In fact, I'm wearing them right now!
And now he's awake! Until next time, friends! :)