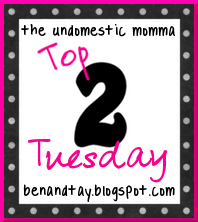 This is my first time participating in Top 2 Tuesday, hosted by The Undomestic Momma. These week's Top 2? Baby Names! So, I couldn't help but chime in with my top two favorites.
Jason and I really had a hard time with choosing baby names. We had a lot of options, boy and girl, since we had decided not to find out the sex of our new baby! We didn't want to share our choices with family because, well frankly, we didn't want to deal with other peoples opinions. Our kid, our name choice. Also, if other people didn't like a name we chose, well, too bad! With that being said, my top two:
1. Well, obviously, Aidan Charles. It was our only boy name. We both loved Aidan and Charles is the name of both of our grandfathers. Aidan has always been my favorite boy name- I even named a pet rabbit Aidan at one point in time!
2. Girls names... Eek! I love so many! We hadn't even decided on a girl's name when I had Aidan. We both breathed a sigh of relief when we found out he was a boy! It saved us the trouble of choosing a girl's name.
My favorite girl's name is Aisling. It's Irish and is pronounced Ash-leen or Ash-ling. I love the unique, Gaelic spelling. Unfortunately, the poor kid would have to deal with name butchering her entire life. Just ask my Irish friend Caitriona (pronounced Katrina). Man, those Irish love their vowels! So, with that being said, if I were to have a girl her name would either be Hayley Rose or Abigail Elizabeth.
There are just so many great names out there! I wonder what our picks will be in a few years when we have another baby? Hmmm...