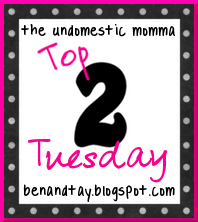 I thought I'd participate in Tay's Top 2 Tuesday today (talk about alliteration!) since it's been awhile since I've participated in any meme.
Today's top two? Your favorite 2 items UNDER $15!
Hmm.... tricky, tricky!
1. GAP tank tops! I live near a GAP outlet, so I always stock up on these babies every year. I usually buy atleast 5 of them because they are so comfy and I love that they come in so many colors! And, at the outlet they are usually half off, so I can "steal" them for about 5 bucks. :)
2. Small candles from Yankee Candle Co. Yes, I realize that almost everything in this store is a little pricey... But I cheat! I use a candle warmer, so I don't have to light the candle and I feel it makes the smell last a lot longer! My absolute favorite? Home Sweet Home. Jason's mom buys me one every year for Christmas! :)
Well, I'm off to get my little man ready for a trip to the Zoo. It'll be a beautiful day with 80 degree weather and sunshine, so I just can't resist!