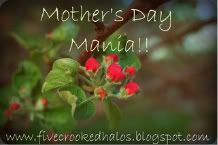 This week I am going to try and join in on Mama M's Mother's Day Mania... Whooo... that's a lot of M's!
She has a different topic pertaining to mommyhood everyday, starting today. I am actually not joining in on today's topic, but will start linking up with tomorrow's post.
If you'd like to play along just click her button at the top of my post!
Now for Wordless Wednesday:
Little Man in a BIG robe!
For more fantastic photos check out
Five Minutes for Mom
.
Stay tuned for tomorrow....