I have been in a bit of a rut. Obviously, since I haven't posted anything in a week. This week has been so wonderful, mainly because my little man turned one! I have been running around like a crazy woman trying to get everything ready for his birthday party tomorrow. I have lots of pictures to post, so hopefully I'll get around to it at the beginning of next week! Not only is the little man's birthday party this weekend, my sister is also coming down from Ohio to celebrate with us! I'm so excited to see her, so won't be blogging while she is in town! :)
I thought I'd relax for a moment and participate in Five Question Friday. Something I haven't done in ages.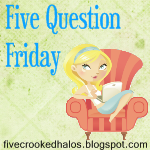 1. Would you rather be on ABC's Extreme Home MakeOver or TLC's What not to Wear?
Honestly? Neither. I don't need a massive house that HM would create on our tiny lot and I've never seen What Not to Wear. But, I think it's that show where they basically tear apart your wardrobe. Am I right? Actually, I guess that wouldn't be so bad. This Mama is is desperate need of some new duds!
2. Do you have any tattoos?
I do indeed. Two to be exact. One of the lower back (can we say tramp stamp? Ha ha!) and another on my hip. I'd like a third on the top of my foot, but I'm not sure if I'll ever get it.
3. Do you tell your kids about things you did growing up?
Well, Aidan just turned one, so I don't think he'd understand what I was talking about. But, I'm sure as he gets older I will. I love hearing stories about my parents growing up!
4. If the traffic signal turns yellow, do you stop or speed up?
Depends on if I'm in a hurry and if Aidan is in the car. With that being said, I only speed up when I'm by myself and rushing!
5. What's your preference: chocolate or chips?
Um, both? I love chips and dips, salsa, queso, guacamole. Yum-o! But, I also have a little passion for things chocolate. Especially Dove dark chocolate almond candies. I always have them in a candy dish in our kitchen. Soooo good!
Have a great weekend!