Hello there from an exhausted Emily. I thought I'd take a moment and babble at y'all while Aidan is
napping
peacefully
babbling away in his crib.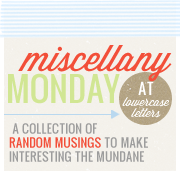 * So, have you figured out who rules yet in this
post
? If you haven't, I'll just go ahead and tell ya. Big brothers rule! And Aidan is going to be one this September. We are super excited about our new addition! More to come on that later this week. :)
* I am so thankful for the beautiful weather we have been blessed with. Springtime in Texas is basically the same as summertime up north. We have been taking advantage and have been spending most of our days outside. I'm actually starting to get a tan! And, thanks to
Living Social
I even purchased two boat rentals at a nearby lake for 50% off. That will definitely make for a fun family outing for later on in the season!
* Have you heard of the Avett Brothers? I have recently become obsessed and downloaded one of their live albums from iTunes. My favorite song by them right now? Well, just take a listen. I guarantee you won't be disappointed!
* We are booking our tickets for a June Ohio trip this week. It'll be a jam-packed visit, which will include a graduation/party for one of my sisters and a baby shower for a friend. I hope I am able to see everybody that I want to. I also really want Aidan to spend as much time as he can with his cousins. Now that he is a walking machine, they'll be able to run all over the place together causing trouble. :)
* I worked my last day at my job this past Saturday. It feels strange, but good. I was becoming
overwhelmed
with things and decided that my Saturday-only job was the right thing to eliminate at this point in my life. I'll miss it, but I feel confident that I made the right decision. Being able to spend weekends together as a family will be wonderful!
* Yesterday we toured some model homes in a
master planned community
that we absolutely love. Jason and I really love the idea of building a home and are coming up with a master savings plan, so that we will be able to afford a pretty sizable down payment to make this a reality some day in the future. We are hoping that within the next 3-4 years we will be able to turn our dream into a beautiful new home for our family! Do you have any tips for us on creating a great savings plan? .
Have a great Monday!