Since I've been
redoing our living room
, I've started scouring thrift shops more often in search of fun, inexpensive finds to jazz our new space up a bit. This week I found two great finds at my local Goodwill, so I thought I'd share them with Linda at Coastal Charm. Check out her Nifty Thrifty Tuesday Party for other fabulous finds!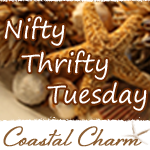 First up, two light yellow accent pillows for my couch. Since painting the room gray, I've decided that I'd like the accent colors to be light yellow, blue and green. (These pieces that I all ready own are my accent color inspiration, two little birds and a votive holder, courtesy of Home Goods and Michaels.)
These pillows were only $3.99 a piece and look wonderful on my white couch! They also match my yellow "inspiration bird" perfectly.
Next up is this sweet little rocking chair. I saw it and immediately knew that it was just the thing for my little man. He loves chairs that are his size and we have yet to find one that we liked, until today!
At only $7.99 I couldn't pass this up! So far I've only bleached it, but I definitely have some big plans( that involve sanding and a fresh coat of paint) for this little chair. And, I think Aidan all ready loves it!
Have you snagged any great finds lately?
~Emily