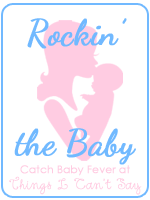 Last month I participated in Shell's Rockin' the Bump party and gave you all a look at my (then)
current baby bump
. Today, I thought I'd take you all on a trip down memory lane and look back at my baby, who is suddenly a walking, talking, trouble-making, goofy toddler. Where did the time go??
Here's my little guy hanging out on his boppy at two weeks old.
Taking a nap on Mommy at three weeks old.
Four months old, playing with Daddy.
Nine months.
Enjoying his first birthday cupcake!
My big boy at sixteen months old, after his first haircut. He is so grown up!

It's hard to imagine that he'll be a big brother soon. He will always be my baby! :)

~Emily